Frequently Asked Questions
Where is the Dutch Boat Registration Valid?
It is valid in most European waters for private use. We do recommend that clients that use their vessel in Portugal register with our Polish flag registration service. In Portugal it is clear that the authorities do not accept the Dutch ICP and therefor, we recommend our clients to register in Poland as this registration is an actual flag registration and is valid worldwide and for the life of the boat with no renewal fees! See details here Poland Yacht Registration
Does the ICP give Dutch Nationality to my Vessel
No, it does not give the Dutch Nationality to your vessel. The Dutch authorities have authorised the Dutch WaterSport Association to register pleasure vessels. This registration is based on resolution 13 from the Economic Commission for Europe of the United Nations (UNECE)
What documents are needed to register?
EU passport OR European ID card *if registering as company can be non - EU passport
Proof of ownership of the vessel - this can be a sales agreement or insurance policy - as long as the hull and engine numbers are shown on it.
I am not an EU citizen, can I apply for a Dutch Boat Ownership Certificate (ICP)?
Yes, in order to apply for a Dutch Boat Registration Certificate (ICP) you need either an EU passport, EU ID card, EU Permanent Residence Permit or a passport of Switzerland, Lichtenstein, Norway or Iceland.

HOWEVER We can also offer Dutch yacht registration for any boat owners that are NOT EU citizens.
We setup an United Kingdom LTD. for you in 24 hours. This LTD is owned by you but can also have additional owners if needed. The total cost for the setup of the LTD. is 349.00 Euro and after that 249 Euro annually. As the LTD. is only used for owning a boat you will not need to pay any taxes or do any government filings.
After 24 hours, the LTD is setup and then you make a new bill of sale on the name of your UK LTD.
We will then register the UK LTD. as owner of the vessel and you will receive your Dutch boat registration 3 days later.
Do I need to deregister my current register to register under Dutch ownership
We can register your vessel without having proof of cancelation of your current registration. So you can deregister your current registration afterwards.
What kind of paperwork do you need to register my yacht under Dutch Boat Registration?
We only need a copy of your European passport or ID Card and a proof of ownership of the boat – this can be either copy of sales agreement, insurance policy or bill of sale. (as long as it shows yacht details like hull and engine number on it).
What type of vessels can be registered under the Dutch Boat Registration?
We can register Boats of any size (sailing and motor), Jet Skis, Canoes and Water Scooters.
How long is the EU - Holland Boat Ownership Certificate valid?
The certificate is valid for two years. It can then be renewed for another two years by us for a fee of 149,00 Euro.
What homeport will show on the Dutch Boat Registration Certificate?
What homeport will show on the Dutch Boat Registration Certificate?
For what purpose do I need to sign the "Declaration of Representation"?
All non Dutch EU residents need to apply for the EU - Dutch Yacht ownership (ICP) with the issuing authorities via a representative in the Netherlands who acts on their behalf. The authorities will only let us represent non Dutch residents via a "Declaration of Representation Form".
Can a Dutch Boat Ownership Certificate be issued when the yacht is owned by a company and not a private person?
Yes, that is no problem. All you need to do is provide the ID of the company owner and a formal document which proves the company is a registered entity.
Can only pleasure yachts apply for a Dutch Ownership Certificate (ICP)?
Yes, the Dutch and Belgium Registration Certificate can only be issued to yachts used for non-commercial purposes.
What is an ICP?
ICP = International Certificate for Pleasure Craft. All European countries can issue an ICP but the Dutch Boat Registration is by far the easiest and has less requirements and lower fees then the other European boat registrations.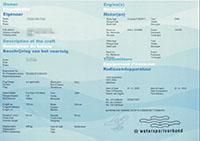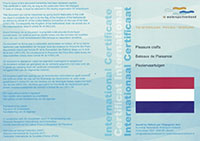 Is it necessary to put certificate number somewhere visible on the boat or it's sufficient to keep the documentation on board?
There is no need to visibly show the ICP number.
What do I do if I purchased a boat which already has a Dutch Boat Registration Certificate?
In the case of a new owner, the previous certificate needs to be canceled and a new one has to be applied for if you want to continue under Dutch registration.
Can changes be made to my current Dutch Boat Registration Certificate?
Yes, we can make modifications to your current certificate if the owner remains the same. We often have clients purchase new engine(s) and we can change the registered engine numbers for them. You will have to send us the original Dutch Boat Registration Certificate in order to have it modified. We charge only 149,00 Euro for modifications.
Can I apply for a Holland Boat Registration Certificate for a yacht that is still in the process of being build?
Yes, that is possible, as long as the hull has been assigned a HIN code and the engine is fully installed.
Can I cancel my Dutch Boat Registration Certificate?
Yes, we can cancel your registration if you for instance are going to sell the vessel. We charge a fee of only 149,00 Euro for this.
Are there any nautical limits when my yacht is under Dutch ownership?
NO, one of the main reasons our Spanish, French and Italian clients de-register in their countries and register under Dutch Boat Registration is that you will not have any nautical restrictions on how far out of the coast you can sail or motor.
What is the maximum size of the vessel?
You can register any size of vessel under the Dutch Boat Registration.
How long is a MMSI valid?
The license will be valid for 10 years as long as you don't have changes in your equipment!
Do I need to display my Boat Registration number on my vessel?
No you do not have to display the number but ofcourse you are allowed to as some countries are used to having it on the vessel
What is the minimum Maritime Equipment?
Below you will find the bare minimum maritime equipment required for sailing under the Dutch Boat registration.
Rescue Equipment

Life vest/jacket : one per person on board
Lifebuoy with light, in case of night operating
Effective distress signals, including flares

Nautical Instruments

Magnetic compass
Navigation lights
Boat horn and manual depth sounder

Armament Equipment

Anchor, hammer and boat hook
Bilge pump or bailer
Sufficient number of oars with oarlocks
Minimum of 20 m of rope for usual operations
Waterproof electrical torch allowing to give light signals
Fire extinguisher (for motorboats)
Complete sails kit (for sailboats)

First Aid Kit

Waterproof box with necessary bandages and other usual pharmaceutical products